DISCOVER THE LODGE (WINE BAR)
We are proud to be able to share our wines & passion directly with our visitors & friends in Vila Nova de Gaia! We have Douro and Port wine flights, as well as by the glass or by the bottle. We also have pairings with bean-to-bar chocolates or with a cheese board, get some snacks and cocktails. Just do whatever feels right for you!
Check our menu on the link below:
The impressive building dates back to 200 years and it has a close relation to the Port Wine world. It was originally used as a cooperage that manufactured barrels and casks for the Port houses in Vila Nova de Gaia.
In the 1950s, with the increasing usage of stainless steel vats, the business was turned into a wooden box manufacturer (boxes which were used to contain Port bottles), until the '90s, when it was transformed into a Port wine tasting room.
Finally, we acquired this lodge in 2020 to be able to share our wines and passion directly with our guests in Vila Nova de Gaia.
Address: R. de Santa Marinha 77, Vila Nova de Gaia 4400-291
Phone number: +351 963 367 787
The Quevedo Lodge is open every day, no reservation is required. Just walk in and feel at home!
Opening hours:
JANUARY 1 to APRIL 25th: 11 am – 7 pm
APRIL 26 to OCTOBER 31st: 12pm – 8pm
NOVEMBER 1 to DECEMBER 31st: 11 am – 7 pm
We close December 25th
Our friendly staff will give you explanations about each of our wines and products
Try our tasting flights (wine tasting)
For a complete tasting experience, pairings of Port & Cheese and Port & Chocolate
Small bites from our menu - all products are local and stand high quality
Not in the mood for fortified wines? Try our Douro DOP wines
Indulge yourself with our cocktails (Port & Tonic made with Rosé Port, or the Gin & Tonic made with our own amazing Gin from the Douro)
Enjoy Live Fado sessions on Tuesday, Thursday and Friday, from 15h to 18h
At our shop, you can find all of our wines available to take home.
Ask our friendly team for expert advice on the perfect wine for each occasion.
OTHER ACTIVITIES & EXPERIENCES
Make it DOUBLE! Put your mixologist skills into action while making (and tasting) our special cocktails with our Port and Dry Gin Collections
Includes: ingredients and materials for making 2 cocktails.
Mandatory booking 48 hrs in advance.
35€

/per person


(minimum 2 pax)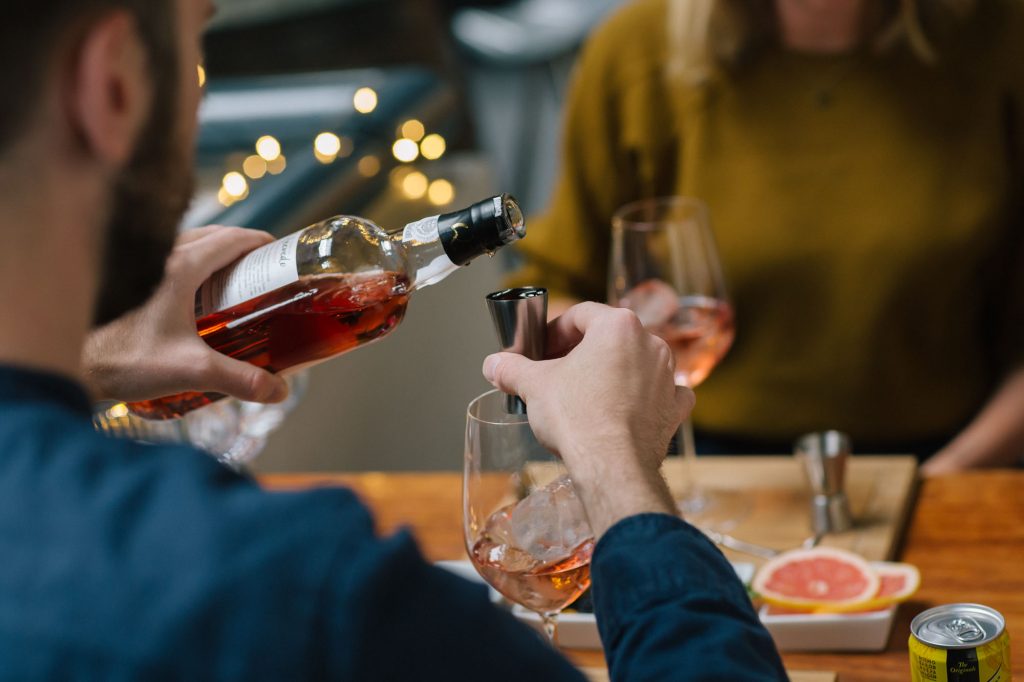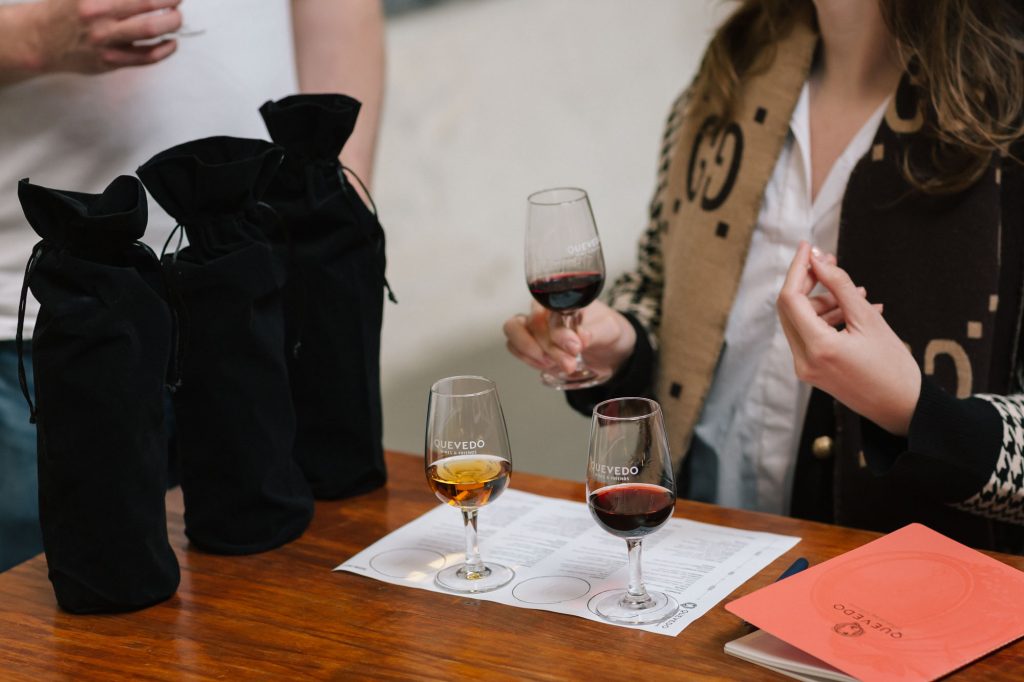 Are you ready to put your senses to the test? Guess the Port wines right if you can – a reward for the super tasters awaits.
Includes: 4 glasses of special Quevedo Port wines & guided blind tasting.
Mandatory booking 48 hrs in advance.
50€

/per person


(minimum 2 pax)
The Art of Port Wine Blending
Making Port Wine is an art and can be seriously tricky, but luckily, you are under the attentive supervision of our Port Wine Expert! Make the wine to your taste, bottle it up and take it home to enjoy your unique blend with your loved ones!
Includes: Blending atelier with our Port Wine Master and 3 sample bottles of 20 Year Old Port of 375ml.
Mandatory booking 48 hrs in advance.
150€

/per person


(minimum 2 pax)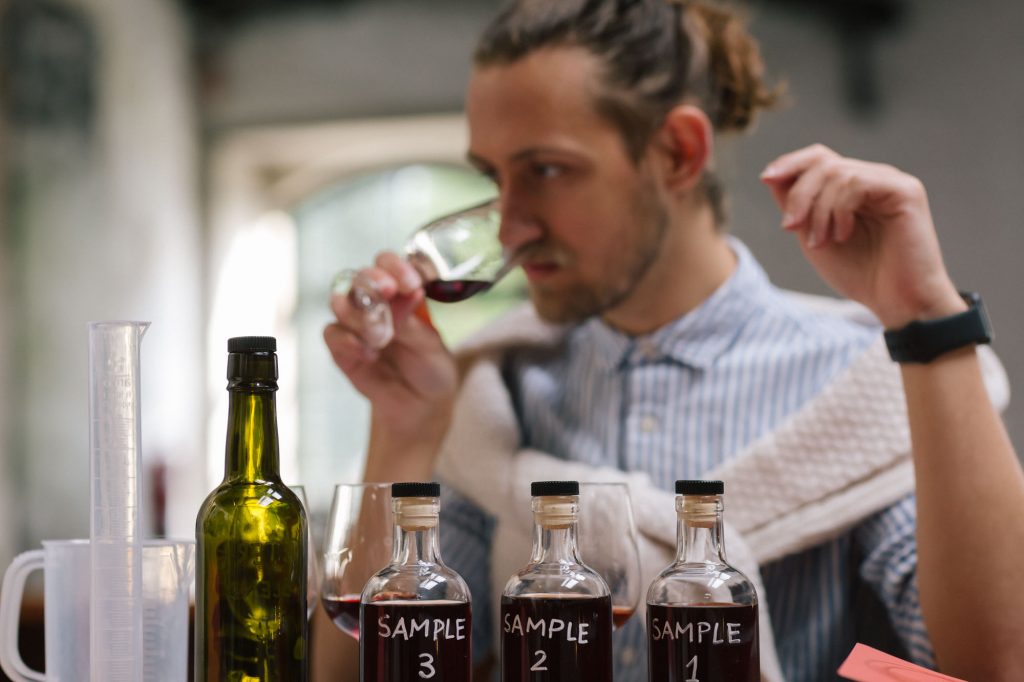 All prices include VAT at legal tax.
Want to have a special event with us? Let's make it happen!​
CORPORATE EVENTS
YOUR BIRTH YEAR TASTING
PRIVATE CONCERT
ANNIVERSARY WINE TASTING
CHEESE & WINE EXPERIENCE
HONEYMOON SPECIAL TASTING
BIRTHDAY PARTY
PORTUGUESE PASTRIES & PORT TASTING
WINE THEME PHOTOGRAPHY
DOURO & PORT PRIVATE TOUR
Please tell us what type of visit you want to do at the Quevedo Lodge. The whole group must opt for the same experience. 
This form is not a confirmation of your booking. After checking our availability, our team will contact you by email.